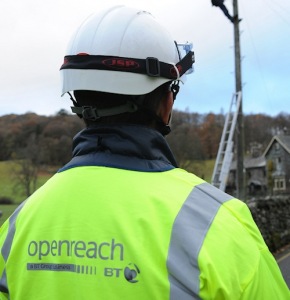 The telecoms regulator has today published its preliminary proposals as part of a major Strategic Review of the United Kingdom's Digital Communications market, but the big news is they've decided NOT to completely split BT from its national broadband and phone network (Openreach).
Openreach was setup a decade ago after Ofcom's original review in 2005, which among other things forced BT to open part of their network to competition ("functional separation") and introduced Local Loop Unbundling (i.e. allowing rival ISPs to install their own kit in BT's telephone exchanges, giving them more control over ADSL broadband and phone).
Since then the market has evolved and the new "fibre broadband" (FTTC) services don't offer the same kind of control or price flexibility as the older LLU ADSL solutions. Meanwhile many of BT's rivals feel as if the operator still has too much control over Openreach and aren't investing enough in their infrastructure, which they claim has damaged competition and performance.
By comparison BT say they've invested billions into the national infrastructure, are delivering a good level of service (i.e. meeting Ofcom's targets) and claim that their rivals seek a free ride off the back of all their hard work. BT has also warned that splitting Openreach could damage their plans to invest in future "ultrafast" G.fast broadband upgrades and the 10Mbps USO (details).
Furthermore there were also fears about the risk from a protracted legal battle, concerns over how BT's huge pension deficit and group debt would be split and uncertainty over who would provide Openreach's future investment. On the other hand BT's rivals believe that an independent Openreach could have fostered investment into superior FTTH/P technology and made the market more open and fair for everybody.
Ofcom's job in all this was to navigate the maze of conflicting claims and decide what the market should look like for the next 10 years. The result is a compromise rather than total separation. Not that the outcome is good news for BT and indeed some of the measures look like painful medicine.
Ofcom's Decision
In the end Ofcom's review did find "evidence" to show that Openreach "still has an incentive to make decisions in the interests of BT, rather than BT's competitors, which can lead to competition problems". It also said that "other telecoms companies have not been consulted sufficiently on investment plans that affect them", which they believe is something that needs to change.
Summary of Key Changes (inc. non BT areas)

* A new strategy has been proposed to promote the large-scale roll-out of new ultrafast broadband networks, based on cable and fibre optic lines, as an "alternative to the partly copper-based technologies" (e.g. FTTC). Openreach will be required to open up its telegraph poles and cable ducts, which must also be made "much easier for competitors to access."

* Openreach must provide comprehensive data on the nature and location of its ducts and poles. Using these, rival ISPs will be able to build their own fibre networks, connected directly to homes and offices.

* Ofcom claims that Openreach's governance lacks independence from BT Group and as a result they will overhaul it, which should allow Openreach to take its own decisions on budget, investment and strategy. The new management would be required to "serve all wholesale customers equally, and consult them on its investment plans". There will also be greater transparency over how costs and assets are allocated between Openreach and the rest of BT.

* Ofcom will introduce even tougher minimum service requirements to push Openreach into repairing faults and install new lines more quickly.

* The regulator will also introduce new performance tables on quality of service, identifying the best and worst operators on a range of performance measures "so that customers can shop around with confidence".

* Consumer broadband, phone and mobile operators will also have to introduce "automatic compensation" when things go wrong, such as due to a "loss or reduction of service" (this is a feature that used to only be offered alongside business products).

* Future auctions of radio spectrum, specifically those that will go to mobile network operators, will include new obligations to help improve rural mobile coverage.

* Ofcom will also work to make switching mobile operators easier and will soon publish a new consultation.

* Ofcom also said they would work to help the Government design a 10Mbps Universal Service Obligation for broadband, but then we already knew they would.
The regulator claims that the new model of Openreach governance (detailed proposals on this are expected to surface later in the year) might require the company to "become a ring-fenced, 'wholly-owned subsidiary' of BT Group, with its own purpose and board members".
Ofcom also said that they would reserve the right to "spin-off" Openreach "as an entirely separate legal entity, with its own shareholders," albeit only if BT doesn't play ball with their proposals. But first the regulator will need to address this proposal with the European Commission (EC) and no doubt BT will object.
Sharon White, Ofcom Chief Executive, said:

"People across the UK today need affordable, reliable phone and broadband services. Coverage and quality are improving, but not fast enough to meet the growing expectations of consumers and businesses.

So today we've announced fundamental reform of the telecoms market – more competition, a new structure for Openreach, tougher performance targets, and a range of measures to boost service quality.

Together, this means a better deal for telecoms users, which will improve the services and networks that underpin how we live and work."
The result is unlikely to please everybody and indeed we could well be back here again in the future because the issue of BT's status in the market is a bit like the playground pinata; every now and then a group gets together to take a bite out of the seemingly unmovable object, such is the reality of being an incumbent Telco in today's market.
Meanwhile there's the question of what impact Ofcom's changes will have upon the market, assuming all of their proposals survive the inevitable bickering match between warring operators. History tends to show that big changes need a year or so to solidify before ISPs start to take advantage of them, but some (e.g. greater access to Openreach's network) may simply be too attractive to go unused for that long; assuming they can get the prices right (that's a big question).
At this point we'd say that BT can already grant access to their cable ducts and poles through thePhysical Infrastructure Access (PIA) solution, but this can't be used for connecting businesses and suffers from other limitations that have limited its uptake. Hence Ofcom are proposing something much more significant.
Similarly there's the other question of how all this will affect the price that consumers pay, particularly in regards to the impact of Ofcom's new quality standards and a move towards automatic compensation. Both could add extra costs on to both ISPs and Openreach, which may end up being passed on to consumers (it will be difficult to do this on the cheapest ISPs without raising prices). No doubt ISPs will also want Openreach to help cover the cost of compensating for any related service outage, which in the past has often been a big bone of contention.
At this point we've only had a chance to glance at the report and will come back to highlight other details as the day continues. In the meantime the big question mark is over how BT will react and indeed whether or not they might find the adjustment so tough as to prefer a spin-off, but we view the latter outcome as being very unlikely. We expect their response to come at around 9am.
Finally, it's worth saying that the changes will all be introduced gradually through Ofcom's periodic reviews (e.g. the next Wholesale Local Access and Wholesale Broadband Market Reviews) and not in one big bang. In other words it could take a couple of years before all of today's proposed changes are fleshed out and become real for the market.
Ofcom's Strategic Review (Initial Conclusions)
http://stakeholders.ofcom.org.uk/telecoms/policy/digital-comms-review/dcr-feb-16/
UPDATE 8:13am
Reading through the document we note that Ofcom are not yet proposing to make any firm changes to the pricing of Openreach's FTTC (VDSL) "fibre broadband" service, which will disappoint TalkTalk andSky Broadband. Ofcom reasons that this could happen in the future, but it also wants to encourage rival ISPs to build their own alternatives.
"Competing providers should be incentivised to build their own networks where this is viable. It must not be too 'easy' for competitors to rely on 'buying' access to another's network when there is the potential to invest in their own," said Ofcom's report.
However Ofcom's notes that their position may change, particularly when they come to begin their next wholesale local access review that will cover the 2017-2020 period. "By 2020 superfast broadband services are predicted to account for the vast majority of broadband connections. Pricing flexibility will have been applied to BT's FTTC investment for 10 years. For this market review, there will be a variety of arguments in favour of reduced pricing flexibility, including potentially reaching the original date for expected payback. In this context, we may be coming toward the end of the fair bet, which could result in a transition to some form of charge controls," concluded Ofcom.