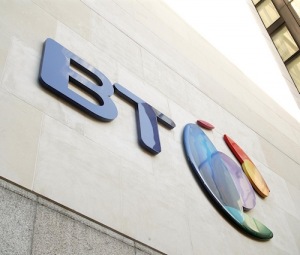 The CEO of BT Group, Gavin Patterson, has made a final plea ahead of tomorrow's Strategic Review outcome and informed the Mobile World Congress event in Barcelona (Spain) that he would "significantly" increase investment (£1bn+) in order to further improve national broadband connectivity.
Reports at the weekend suggested that Ofcom would not move to separate BT (here) from control of their national UK phone and broadband network (Openreach), although they might keep that option on the table. Never the less Patterson cannot afford to trust in leaks to the media, not least because BT will officially learn of its fate at the same time as everybody else.. tomorrow.
Gavin Patterson said:

"There's a significant investment that we are ready to make now in the next generation of technology, more Fibre-to-the-Premise [FTTP], G.fast (and) Fibre-to-the-Cabinet [FTTC] … That's a big decision, we are ready to make it if we get some regulatory certainty coming out of the Ofcom review.

Openreach is the only national player and it is very heavily regulated. We believe having Openreach as a unit within the BT group is good for investment and for research and development, and insures you get a national service at competitive prices. If it's ever separated, would you see the same investments being made? I very much doubt you would."
According to a related report on the FT, that "significant" investment would see BT spend £1 billion+on improving UK broadband connectivity. But the commitment lacks key information, such as whether or not this actually reflects an existing pledge or even if it has separated out Capex (capital expenditure) from Opex (operating expenditure).
Readers may recall that BT made a big commitment last September towards improving national broadband connectivity (here) and the bulk of that is focused on their G.fast deployment. BT intends to begin the commercial roll-out of G.fast in 2017 (here and here) and they've pledged to make the new service available to 10 million premises by 2020, with "most of the UK" likely to be done by 2025. Initially the service will only offer speeds of up to 300Mbps, before later increasing to 500Mbps.
At this point readers may recall that BT's original £2.5bn commercial commitment to roll-out superfast broadband (FTTC/P) also intended to deploy significantly more ultrafast fibre optic 330Mbps FTTPbroadband (around 2.5 million premises passed), but the operator ended up dramatically scaling that back in order to focus on cheaper, but slower, 40-80Mbps FTTC. A fair bit of that £2.5bn didn't get spent, which they'd say is good value for money.
However BT already spends around £300-400m per annum on "fibre" (so we were told last year) and broadly expect that to continue for the next 5 years until 2020, with the majority of future investment likely to support the G.fast roll-out. But BT also told us that G.fast could be done within the original £2.5bn commercial commitment and that begs the question, is the new promise of "significant" investment largely just a re-announcement?
We did shoot off a quick message in the hope of some clarity, although a BT spokesperson told ISPreview.co.uk, "Ofcom will release their provisional findings on Thursday morning and we will respond then. We made it clear in September that we are keen to invest large additional sums in the UK 's infrastructure and that has not changed. Regulatory certainty is required however as Gavin made clear yesterday."
Lest we not forget BT's other commitment, which originally (2010/11) promised to match the £830mstate aid allocation through the Broadband Delivery UK programme (this is separate to the £2.5bn commercial commitment). At this point it's becoming hard to distinguish new commitments from old. In any case we might get a clearer answer after tomorrow.
Meanwhile Vodafone's CEO, Vittorio Colao, also used the MWC event to take a last ditch shot at BT: "A model which was supposed to be neutral and separated has actually been creating extra profits for the company that owns it. It's a model that allows equal access but a price higher than most European countries. I hope [Ofcom's CEO] is going to say either that she really supports considering the split of Openreach or at least that she will put much tighter obligations on Openreach, both in terms of performance and pricing."
We suspect that Vodafone will get at least part of what they want.