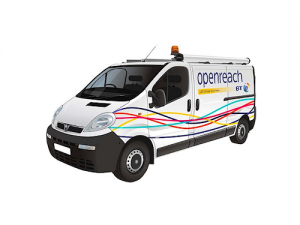 Reports are coming in of sporadic problems with gaining access to BT's websites and also an apparent nationwide fault affecting broadband connectivity on their network, which at the present time does not appear to be hitting TalkTalk or Sky Broadband's unbundled lines.
According to a status update from AAISP, "BT have a major problem at the moment and lines which log off are unable to log back in again. Our TalkTalkservices are unaffected, and lines which stay online are unaffected. This looks to be a country wide problem affecting many ISPs." A large number of UK ISPs that use BT's services (e.g. BTWholesale) appear to be affected by the issue, which began at around 2 – 3pm.
Sorry if your are experiencing network problems. Engineers are on site now. We will keep you updated.

— BT (@BTCare) February 2, 2016
The hashtag #BTDown on Twitter is starting to trend and the advice right now is that if you're connected then don't reboot your router as you may struggle to reconnect.
UPDATE 3:52pm
Apparently the problems are also extending to the systems that ISPs use to interface with BT via Openreach / Wholesale, such as diagnostic services. We also note that BT.com is working (partly), but their Service Status page for consumer broadband is not. It's a very unusual problem.
UPDATE 4:03pm
Anybody expecting an Openreach engineer to visit today may see delays (more so than usual) because even BT's engineers are being affected by some of the system outages.
UPDATE 4:06pm
Services that make use of Vodafone's unbundled broadband lines are also unaffected by this problem, much like Sky and TT.
UPDATE 4:16pm
Some consumers who managed to reach BT's customer support have been told that the ETA for a fix is around 4 hours, which suggests that they know what's wrong. Otherwise we have so far had no reply from BT itself and our main source of information has been third-party ISPs, which are much more helpful.
UPDATE 4:29pm
Openreach are informing ISPs, such as Aquiss, that the target time for a fix is now 7pm.
UPDATE 4:36pm
Some ISPs are reporting that their API/XML Interfaces may be improving because the connectivity to Openreach/Wholesale is slowly starting to return. The official line from Openreach to ISPs is currently as follows: "We are aware of an issue impacting connectivity to Broadband services and are currently investigating with technical support teams. At the moment, we are unable to inform you of your specific affected circuits and services. Once root cause is established we will issue this detail promptly."
Unconfirmed rumours are also bouncing around the ISP sphere that a DDoS attack may have been to blame, with everything ending up being routed to the Collindale PoP as all others were suffering problems. We can't speak to the DDoS attack, but some of BT's PoPs certainly hit troubled times.
UPDATE 4:49pm
We're seeing some consumers report that their broadband is now reconnecting, but issues remain for other parts of the UK. Likewise BT's websites appear to have come back to life after 2-3 hours of turmoil.
UPDATE 4:58pm
The official line from BT is in.
A BT Spokesperson told ISPreview.co.uk:

"Large numbers of customers have been experiencing temporary issues with their broadband services this afternoon. Customers can still receive and make calls as normal.

We've been working hard to fix the issue and are glad to report that nearly every customer affected is now reconnected, approximately two hours after the problem started.

We apologise to any affected customers for the inconvenience.

There is no evidence at this stage to suggest that we were subject to a malicious attack."