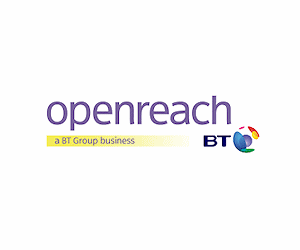 BT to be separated from control of their national UK broadband and phone (Openreach) network, which the group suggests could "provide a market with a level playing field between all players."
At present Ofcom's on-going Strategic Review of Digital Communications is said to be "seriously" considering the option of breaking up BT, which if appropriate would require the regulator to refer the operator to the Competition and Markets Authority(CMA).
Politicians seem to be divided on the topic, with many supporting such a split (here) and others, such as Ed Vaizey (Digital Economy Minister), suggesting that it has "lots of potential to backfire" and existing "regulations have proved very effective" (here).
Meanwhile BT contends that it has continued to meet Ofcom's existing regulatory targets and that any attempt to split their business might tie the process up in legal battles. Questions also remain over how BT's debt / pension pile might be apportioned in the event of a split, as well as the impact on consumer prices from all of the related changes (better services cost more money) and what kind of market model might be adopted in its place.
BT has also warned that their plans to roll-out ultrafast (G.fast) broadband could suffer, but that may be a moot point if FTTH/P ends up becoming the favoured course. Equally there's a risk that separating Openreach might harm investment in alternative network operators, since Openreach would perhaps be seen as the bigger target for investment. It also remains unclear whether smaller ISPs on Openreach's network would be winners or losers in such a market.
In to this seemingly endless debate steps the CPS, which believes that separation of BT may be the best long-term fix for the United Kingdom's telecoms market.
Daniel Mahoney, CPS Economic Bulletin, said:

"The UK's broadband infrastructure is falling behind international competitors. BT has abandoned attempts to rollout ultra-fast fibre to premises broadband infrastructure. Instead, BT's focus is on fibre to the network and sweating copper assets, which will provide comparatively slower speeds.

Structural separation of BT Openreach must therefore be considered for the UK's broadband infrastructure. Regardless of whether there is merit in complaints about BT Openreach's service provision, the current broadband infrastructure market appears anti-competitive.

The current broadband infrastructure system leads to a conflict of interest in two key ways. BT runs the UK's broadband infrastructure and service providers are forced to use this infrastructure. Furthermore, BT uses its own infrastructure to provide internet services to customers, which is a major disadvantage to its retail broadband competitors.

Structural separation, however, could provide a market with a level playing field between all players, where the infrastructure that service providers rely on would not be owned by one company. This would be good for competition and good for consumers. There is every indication to suggest that a structurally separated BT Openreach – with various investors – might be more likely to invest in higher speed broadband provision. International precedents from Singapore and New Zealand provide favourable evidence for the structurally separated model.

Ofcom should refer the issue of structural separation of BT Openreach to the Competition and Markets Authority later this month. The Competition and Markets Authority can then investigate the matter and suggest the best ways of increasing competitive pressures in this market.

A delayed decision on this issue will be bad for broadband consumers and bad for the UK economy's productivity. Previous delayed decisions on improving the UK's infrastructure – such as that on Heathrow expansion – have been detrimental to the UK economy. Ofcom must not follow in these footsteps."
A short summary of the bulletin can be found online (here), which echoes many of the arguments that we've seen before and suggests that such a move would foster the deployment of ultrafast FTTH/P in favour of hybrid-fibre solutions like G.fast. However it's worth noting that this would not solve the connectivity problems for rural areas since none of the major players seems to anticipate 100% FTTH/P coverage or even close to it.
Ofcom aims to publish their findings by the end of this month, although it could still be delayed into March or later. At this point the weight of opinion seems to be moving in favour of those calling for BT to be split, but only the regulator can actually make the final decision and history shows that they tend to prefer a less aggressive approach. We shall see soon enough.
UPDATE 4:49pm
The official BT response is as follows.
A BT Spokesperson said:

"Unlike respected independent studies by Ofcom, the EU and others, this blog is under-researched and paints a false picture of UK broadband.

It compares the UK to other countries based only on average speeds, whereas other important measures – such as availability of services, prices and take-up – place the UK well against important international peers. There is also no acknowledgement that ultrafast speeds can be achieved at a fraction of the cost and in a fraction of the time using G.Fast technology pioneered by BT.

Independent analysts disagree that structural separation has been a great success elsewhere. They find that the few countries to try it have either higher broadband prices, slower roll-outs, much larger tax-payer subsidies – or a combination of all three.

There is simply no evidence that broadband investment would be higher or competition fiercer if Openreach became a smaller, weaker, standalone company. How could it, when the UK already has more than 500 firms competing in this market and Ofcom sets 96% of Openreach prices to level the playing field for them all?

As the blog highlights, the UK is in a stronger position than its European peers, and BT has outlined ambitious plans to invest in ultrafast broadband over the next decade."